Why did I never get to lie on this in Bali ? I suspect it might have been a bit uncomfortable anyway.
It's been a while since I posted here - which isn't to say that I've stopped reading...just that my family history blogging has kind of taken over.....
I always mean to join this challenge and receive regulr posts from the group on Goodreads. Looking back at the year's reading I realise that I'm well on the way to the Stella and the Miles goals already...all I need to do is write the reviews - I've certainly read the books !
So here goes....and yes I am aware that these reviews probably leave something to be desired in the way of erudition...I'm going for the gut reaction: short and sharp. My apologies to those of you looking for something more highbrow or learned.
***
We read this for bookclub earlier this year. You can get fantastic sets of 10 books at the library where I work - Moreton Bay Region Library service. My sister-in-law and I agreed that we so wanted to like this. It started out really well and captured beautifully the excitement of being in Sydney; the glorious harbour, Circular Quay and the thronging masses. The structure of the book uses a device that is fairly commonly these days - several characters seemingly unrelated, eventually connect. In the end, I found the book's characters too introspective and their lives grim. Having said that, some of our bookclub members really liked the book and it resonated with them. But it wasn't for me.
**
This first novel from Mary-Anne O'Connor is destined to be a hit with lovers of romance and family sagas. The evocative cover will also work well in making sure this title is whisked off display stands.
The story begins in the small Australian country community where the Murphy and O'Shay families have created a comfortable and generous life. Neighbours and best friends, Veronica (Vera) and Pattie are on the cusp of womanhood; their mothers desperate to tame their rather wild and unconventional ways and groom them for the duties of home-making and mothering. When the Murphy family arrives in the close-knit Catholic neighbourhood, Vera and Pattie's brothers are bowled over by the charms of the Murphy's buxom and seemingly sophisticated daughter, Rose. Rose wastes no time seducing Pattie's brother Jack, for whom Vera bears an inarticulate and, as yet, unrequited love. The rumble of war guns call in the distance introduce yet more complications into the heady lives of these young people.
This is standard romance fare and would work well as a light holiday read. There are plenty of plot twists to keep the reader entranced and it is refreshing to see a World War I historical novel set on Australian soil.
*****
Oh dear. Be very careful when reading this book. I made the mistake of picking it up yesterday afternoon...and didn't put it down til 2:30 this morning. "Just one more chapter.." I kept saying to myself. I didn't even wake up to watch the Matildas early. Not good. Bad Alex ;) This was my review from back in June. It was my first Liane Moriarty. I don't know how to describe her genre. You could call it chicklit but I think that's kind of demeaning or downplaying or not quite representative or what it is. At first I wanted to call it a comedy of manners because I did spend a lot of time laughing out loud. But it's also a kind of mystery. And very contemporary. So, just because it's on sale at KMart, don't underestimate it's power to enthrall.
*****
First I will declare my conflict of interest. I do not know the author personally but I have been a guest in her mother's house. Her mother is my best buddy's neighbour. There - that's over and done with. My best buddy, Loani, Queen of the Tea Cosies, recommended this book to me yonks ago and our library finally added it to their collection. It was with great excitement that I got to read it earlier this month.
Lest we Forget is a picture book about Anzac Day aimed at the very young. My first thought was how does one even begin a discussion of what Anzac Day means with the very young? Why would we even want to trouble their tiny minds with the horrors of war? Well that would be forgetting just what tiny minds are capable of - compassion, feeling, emotions, understanding, growth, love - the list goes on. Simply told and simply illustrated, this is a powerful conversation starter. The best kind of story. A story for sharing with the ones you love the most. Well done Kerry! I hope I get to meet you one day in person and tell you how much I loved your book.
**
Too quiet and contemplative and ethereal for me. It was a real grind getting through it but perhaps my judgement was clouded by the circumstances in which I found myself. Stuck in a motel room in Bali and wishing i was home. This was not an escape for me - instead it dragged me down deeper into a morass of despair. I'm getting harder to please in my old age. Liked the cover though. That got me in.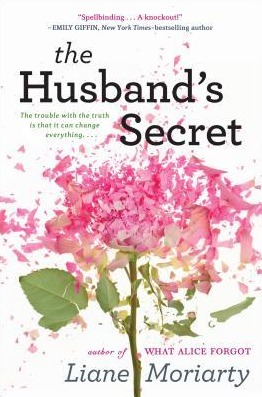 *****
Deeply satisfying...my new favourite author. I want to say that Liane Moriarty is this generation's Jane Austen - but that would go to her head ;) And probably isn't strictly speaking quite true. I truly am in awe of how Liane captures contemporary society's mores/little obsessions. Her characters are to a large extent full of self-deprecatory humour but also face real issues. Liane's work has some of the quality of Jodi Picoult but without the angst/almost salacious quality of that author. It's hard for me to describe - can you tell?
So there you have it - I've reached Miles status I think - if you can bear short sharp reviews.
My son is studying Australian Literature at UQ this semester....I took a sneak peak at his "text" last night.
What a treat that was....I felt at the same time conflicting emotions - inordinately proud of being Australian and desperately ashamed of how little I had read.
I've resolved to lay my hands on the following authors and catch up if I can:
Delia Falconer - I've ordered Sydney
Amanda Lohrey - I've ordered Reading Madame Bovary
Olga Masters - I've downloaded Amy's Children
Marjorie Barnard - I've got one of the ones published by Virago The Persimmon Tree and Other Stories which I've been meaning to read for a while since I purchased it from the Lifeline Bookfest last year.
Michelle de Kretser - will I listen to the talking book The Lost Dog or read Questions of Travel?
Have you read any of them? What did you think?
And then, for those who love non-fiction, just to add grist to the mill,the following were announced:
I would like to see/read the following which are a sample of the shortlists:
Australian First World War History Prize (commemorative medallion)
Anzac: The Unauthorised Biography (Carolyn Holbrook, NewSouth) - you can download it at Moreeton Bay Region Libraries here
Homefront Hostilities: The First World War and Domestic Violence(Elizabeth Nelson, Australian Scholarly Publishing) - This was a thesis so if you work/study in academia you should be able to get it easily. I'm really keen to see this when it becomes more readily available.
NSW Community and Regional History Prize ($15,000)
The Luck of the Irish: How a Shipload of Convicts Survived the Wreck of the Hive to Make a New Life in Australia (Babette Smith, A&U) - I've ordered it from my local library
Young People's History Prize ($15,000)
Lennie the Legend: Solo to Sydney by Pony (Stephanie Owen Reeder, NLA Publishin
g) - this is in my local library so I look forward to seeing it.
My Gallipoli (Ruth Starke & Robert Hannaford, (Penguin) - I think I've seen this already but want to have another look now.